Practical information – Latest Wednesday 23 June 2021
Blood donation: we still need you
No blood means no life. There is no product which can fully replace human blood, which makes blood donation irreplaceable and essential to saving a life.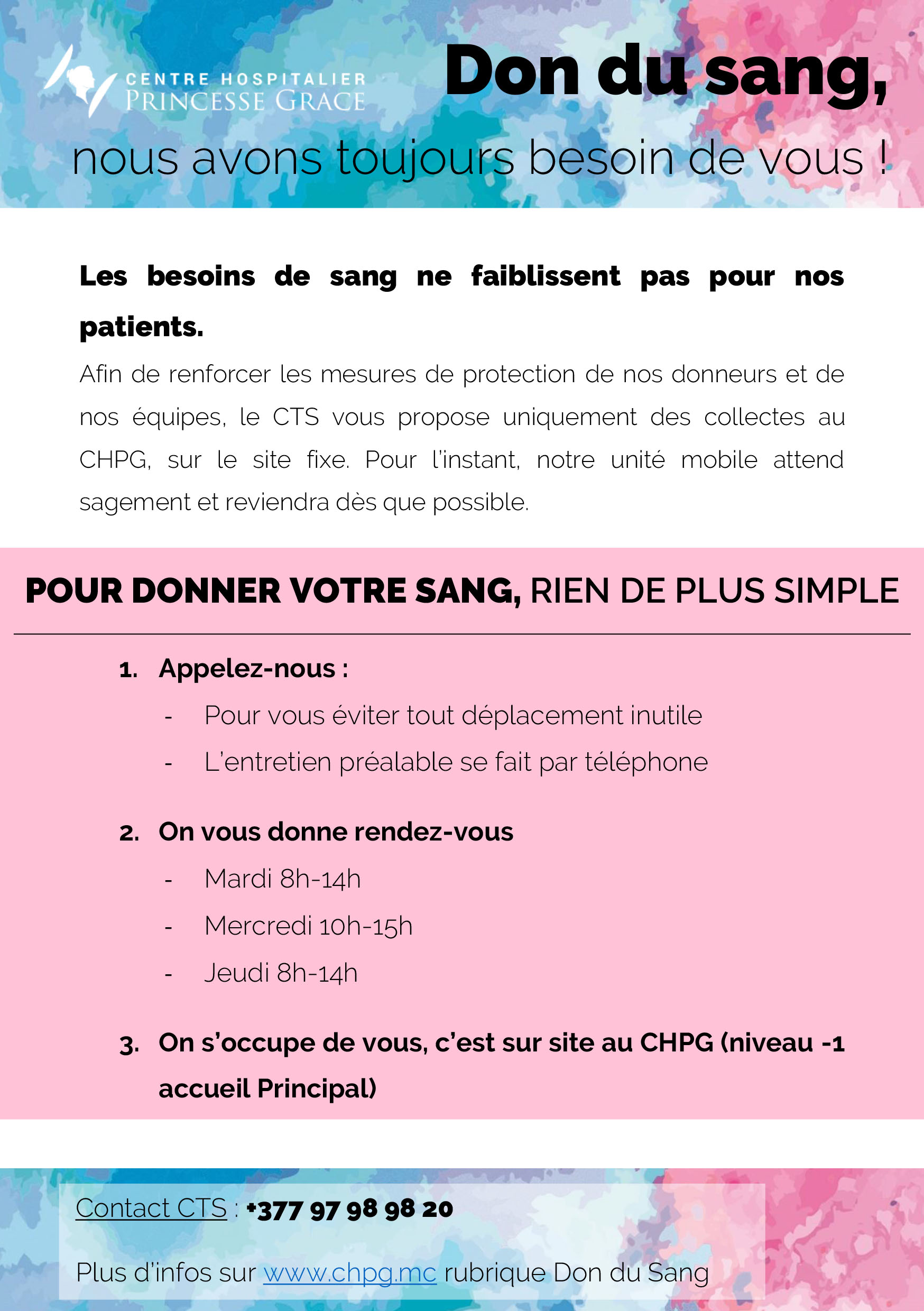 The demand for blood from our patients is as strong as ever.
To strengthen protection for our donors and our teams, the CTS is collecting donations at the permanent site at CHPG only. Our mobile unit is currently waiting patiently and will be back as soon as possible.
It couldn't be easier to give blood:
1. Call us:
To avoid unnecessary travel
The initial consultation is by telephone
2. We'll give you an appointment
Tuesdays, 8 a.m. to 2 p.m.
Wednesdays, 10 a.m. to 3 p.m.
Thursdays, 8 a.m. to 2 p.m.
3. We'll look after you at the CHPG site (Level -1, Principal reception)
Every year, 3,500 donations of blood are required for the 800 patients who receive transfusions in the Principality. Giving blood is a simple, generous and responsible act of solidarity, which nothing in current science can replace.
Blood transfusions are required in the treatment of numerous conditions:
• leukaemia and cancer: chemotherapy temporarily destroys bone marrow cells. Transfusions of platelets and red blood cells are vital during this period.
• significant haemorrhaging: following an accident or during surgery, red blood cell transfusion can be critical.
• haemophilia, treatment of infectious diseases, burns: the use of plasma and drugs made from plasma is vital.
Where and when can you give blood?
Blood donation at Princess Grace Hospital:
Level -1, Princess Charlotte Pavilion
Tuesdays, 8 a.m. to 2 p.m.
Wednesdays, 10 a.m. to 3 p.m.
Thursdays, 8 a.m. to 2 p.m.
Tel.: 00377 97 98 98 2